MS PROJECT
A great piece of software but it is over-kill when it comes to land surveyors and can be very difficult to learn.
The cost is also not tailored to land surveyors.

EXCEL
Most land surveyors looking for an improved software solution start with Excel before moving to Kudurru Stone
Excel is not made for project management.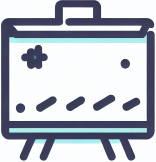 WHITEBOARD/DRY ERASE BOARD
Well, what can we say? Whiteboards are fine if you use an abacus to do your accounts and a sundial to tell the time.
Seriously though, it's about efficiency, automation, and your bottom line.